Roll over image to zoom in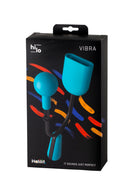 Description
Hi-Lo Vibra Shaker
The Vibra Shaker is an extremely light and durable musical instrument, ideal for gigging percussionists, budding musicians and anyone who just wants a bit of musical fun! Just strike the ball against your palm to enjoy righ Hi-Lo vibrating sound effects.
Its innovative design lets you control the sound effects by simply moving the ball along the slider, whilst the resonating chamber features metal hammers to produce rich and deep sounds. The comfortable handle is ergonomically designed to enable an easy and sturdy grip with much more balance.
Hi-Lo's instruments are specially designed with absolute care, taking into consideration ergonomics, ease of use and comfort but most of all – the perfect sound effects. The innovative modern design and stylish colours combined with the finest raw materials make Hi-Lo percussion the perfect musical instruments.
*Please note that this is a real musical instrument*
Payment & Security
Your payment information is processed securely. We do not store credit card details nor have access to your credit card information.